During the last couple of years, more and more people followed natural living lifestyles, creating a new trend in the need for products made from natural materials, especially environmentally friendly interiors. 
At Simple Decor, our home and interior decoration products are not only diverse in design but also in the variety of natural materials used such as bamboo, rattan, etc. Personally, the lampshade is one of my favorite interiors and you can learn more about our Rattan Lamp Shade here. In this blog, we will continue our journey of exploring natural lamp shades, and this time is Bamboo Lamp Shade.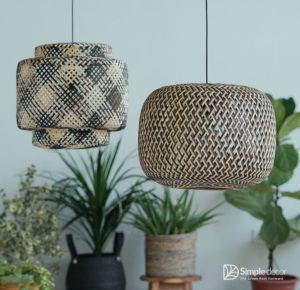 Why is Bamboo Lamp Shade Wholesale a Good Choice?
Bamboo is widely used in interior design, especially lampshades, because of its practicality, longevity, and durability. Bamboo can be harvested much faster in just 2-5 years while most softwood takes 10-20 years and is replenished without damaging the natural forest. Also, Bamboo is 100% biodegradable, making it suitable for producing sustainable products. Bamboo can withstand extreme changes in humidity and temperature. It has high water resistance, therefore, it is highly resistant to shrinking and swelling, doesn't stain or deteriorate, and is anti-bacterial naturally.
With such amazing features, Bamboo Lamp Shades can be used both indoors and outdoors and easily match different decor themes as their designs can be simplistic or extremely sophisticated.
Read more: Bamboo Products Wholesale Made In Vietnam
Bamboo Lamp Shades Manufacturer in Vietnam
At Simple Decor, we manufacture beautiful Bamboo Lamp Shades from scratch. Do you know the production process of such amazing Bamboo Lamp Shades? Let's find out together!
Raw Materials Sourcing
To produce a perfect bamboo lampshade, at first, we have to carefully source the bamboo based on its shape and age as it will determine the aesthetics of the final product. Our sweet spot is the bamboo tree that isn't too young because a young bamboo tree will reduce the durability and longevity of the bamboo lampshade. At Simple Decor, we mainly source our bamboo for our lampshades in Son La province, learn more about our material sourcing process here.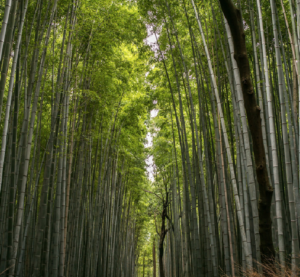 Read more: 3 Reasons Why You Should Work With Vietnamese Handicraft Suppliers
Process Raw Materials and Making the Final Products
After being exploited, bamboo trees will need preliminary processing and treatment to increase the product's quality. The initial step is anti-termite treatment, we will soak the bamboo plants in water for 3-5 months. Although chemicals can also be used to save time, we decided not to use such methods to protect the environment.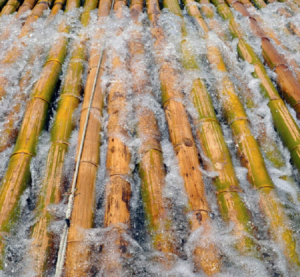 Then, we will split and preliminarily process it into flat or round slats/strips depending on the different product's designs. After that, our skillful and passionate weavers use the pre-prepared flat and round bamboo slats/strips to weave the most amazing and beautiful Bamboo Lampshades.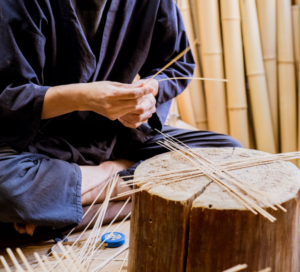 Finally, those lampshades are moved to the finishing process, where we make any last modifications on size, color, etc., and perform quality control before packaging, loading into container(s), and ready to ship to our beloved customers.
Bamboo Lamp Shades With Variety Designs Wholesale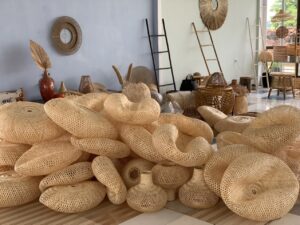 At Simple Decor, our Wholesales Bamboo Lamp Shades have different styles from floor lamps to ceiling lamp shades with many different shapes such as round, oval, triangular, etc. Each of them is unique, shines on different decoration themes and purposes, and matches different tastes.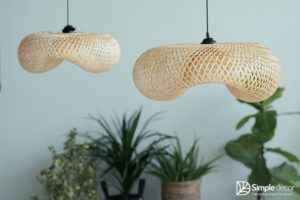 Simple Decor is confident with the quality of Bamboo Lamp Shades because in each stage of the manufacturing process, we always strictly modify and control the quality to ensure the best quality when our Bamboo Lamp Shades reach customers.